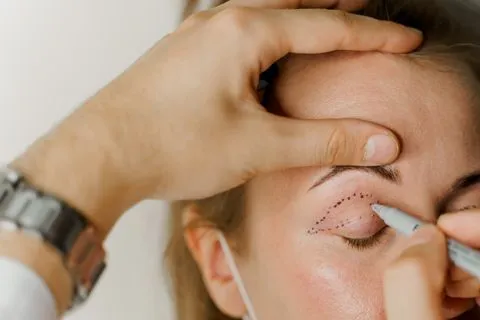 When you think of receiving treatment from an ophthalmology clinic, procedures such as cataract removal and corneal transplantation may spring to mind. However, as important as those procedures may prove for the restoration and preservation of eyesight, our ophthalmologist here at Oppenheimer Eye Clinic is equally happy to offer cosmetic procedures as well. Take a moment to acquaint yourself with the broad range of services that fall under the category of cosmetic ophthalmology.
What Is Cosmetic Ophthalmology?
Ophthalmology in general concerns itself with medical treatment for eye and vision issues, including a variety of surgical techniques to combat progressive eye diseases such as glaucoma, macular degeneration, diabetic retinopathy, and cataracts.
However, the specific sub-specialty, known as cosmetic ophthalmology (or cosmetic oculoplastics), focuses on procedures that remove or modify unsightly features on or around the eyes. General ophthalmologists get the additional training required for this discipline by observing and working closely with plastic surgeons.
Cosmetic Ophthalmology Services and Techniques
Cosmetic ophthalmology embraces a wide range of services and techniques to help patients appear younger or correct long-standing problems with their eyes or eyelids. These services may include:
Eyelid Surgery - A variety of situations, from congenital deformities or natural aging to neurological disorders, can leave you with drooping eyelids (a problem called ptosis). Ptosis repair involves reducing the overall height of the eyelids. If sagging skin and fat around the eyelids bothers you, a surgical procedure called blepharoplasty can remove it.
Botox - Constant contraction of the tiny muscles around your eyes can create frown lines, crow's feet, and other wrinkles that make you look older. Botox injections relax these muscles for months at a time, smoothing out your skin.
Cosmetic Fillers - If you have lines near your eyes that stay with you even when your face is relaxed, you may benefit from fillers instead of Botox. Substances such as hyaluronic acid are injected into these lines to plump them up.
Latisse - Latisse is an FDA-approved treatment for thin or sparse eyelashes (hypotrichosis). This ophthalmic solution can help you grow longer, thicker, more beautiful lashes.
Micropigmentation - This tattooing technique can provide you with long-lasting eyeliner or eyebrow enhancement.
If you're ready to improve the looks of your eyelids, your eyelashes, or the skin around your eyes, then you're ready to schedule cosmetic ophthalmology services. Contact Oppenheimer Eye Clinic today at (305) 294-5503 to get started.